JULY 19th EVENT TO BE HOSTED BY MAYOR JIM WATSON AT MARION DEWAR PLAZA
CreativeMornings Ottawa is thrilled to announce a partnership with the City of Ottawa. This relationship will look to both support and promote the growing creative scene in Ottawa, and will be formalized at a very special July event hosted at Marion Dewar Plaza. Mayor Jim Watson will be in attendance.
"This partnership with the City is our way of officially recognizing not just CreativeMornings but also the creative community as a whole in Ottawa. It speaks to the fact that the City recognizes the importance of creativity, innovation and forward-thinking."

Sharif Virani, Co-Founder of CreativeMornings Ottawa
CreativeMornings Ottawa just celebrated its 1st birthday last month and over the past year has been hosting monthly gatherings with some of Ottawa's top creative minds. To date, well over a thousand people have attended the inspirational breakfast speaker series, ceating a fresh sense of optimism and collaboration amongst local citizens and businesses.
"Ottawa sometimes gets branded as a boring grey flannel government town when that really isn't true. We're in the midst of our incredible summer festival season in Ottawa right now and that's just one example of the diverse set of offerings our city has year round. We need to do a better job at promoting Ottawa's vibrancy and I'm glad to see that events like CreativeMornings Ottawa are around to do just that."

Mayor Jim Watson
This month's event at city hall is shaping up to be the largest gathering yet. The City of Ottawa, through the signing of an memorandum of understanding (MOU) with the Community Arts and Social Engagement division, recognizes CreativeMornings as a catalyst for creativity; a focal point among its increasingly creative populace.
"This partnership is emblematic of our goal to reach a broad demographic across the city. We want to turn the corner on creative community building in Ottawa, and to do that, we need to collaborate with local government and policy makers."

Michael Grigoriev, Co-Founder CreativeMornings Ottawa
CreativeMornings Ottawa will also be formally announcing the launch of the CreativeMorning Ottawa's Scholarship for the Inspired at the July 19th event. Playing off the support and money raised at an earlier event in the spring, the group - in collaboration with the Ottawa School of Art (OSA) and the School of Photographic Arts (SPAO) - will attempt to raise enough money for two people this year to explore and expand their creative potential and abilities through courses at the respective institutions. This scholarship is the first of its kind in CreativeMornings history. For more information, visit www.creativemorningsottawa.com (site live as of the 19th).
The July 19th event will feature speaker John Doran, president of Domicile Developments Inc. Doran will be speaking about urban space development, the future of our communities and his approach in his work. His breadth of experience in this area, particularly focused around community engagement and the informed use of space, will serve as a great background for the morning's discussion. As all CreativeMornings events go, it will begin at 8:30am. The event is free of charge and includes breakfast, a 20 minute talk, followed by a group discussion and Q&A. Tickets are available at www.creativemorningsottawa.eventbrite.com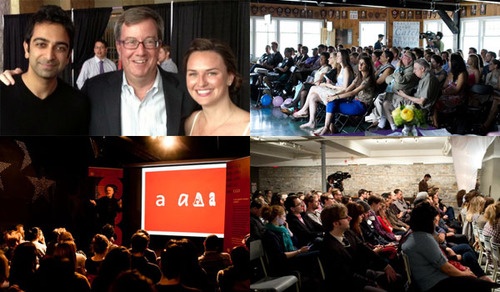 Media Contact
Suzy Kendrick
suzy@lilybellecommunications.com
(613) 795-5459
Ottawa newsletter
Ottawa community








see everyone